Branson, MO Morning Show
Several popular Branson shows and things to do to choose from start the fun and entertainment during morning hours. With a number of different options ranging from the world-class guitar playing of Doug Gabriel to the hilarious antics of comedians, these are productions that will make your morning memorable. Start the day off on a good note, and check out these different Branson Morning Read More
Top Pick
We are confident you and your family will enjoy this top pick.
For an unforgettable afternoon or evening, one of the Lunch & Dinner Cruises is the perfect addition to your itinerary.
<
Oct 07
12:00 PM
4:00 PM
8:00 PM
Oct 08
N/A
Oct 09
N/A
Oct 14
12:00 PM
4:00 PM
8:00 PM
Oct 15
N/A
Oct 16
N/A
Oct 21
12:00 PM
4:00 PM
8:00 PM
Oct 22
N/A
>
Morning Show: Down Home Country Show is a friendly and informative show dedicated to the best in country music, news, and weather. We love our audience, and we know you will too! Tune in each morning at 8:00 AM on 92.3 FM or 105.7 FM to play with one of our contests or sing at home with your friends. Management Morning Show: Down Home Country Show is managed by Carlyle Taylor. Carlyle is a local broadcaster and the current president of the Greater Atlanta Broadcasters Association. He has been at WZGC for several years, and his on-air persona is "the nerdy country guy." For a long time, he had no idea that his wife, Karen, was also a broadcaster at the same station. She is an evening DJ and also lives in Atlanta.
Oct 07
N/A
Oct 08
N/A
Oct 14
N/A
Oct 15
N/A
Oct 21
N/A
>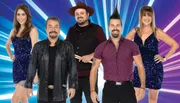 When visiting Branson, Missouri, the Doug Gabriel Morning Show is a must-see musical and comedy show. Located in the Branson Famous Theater, the performance is appropriate for all ages as his family takes part in the wholesome production. Doug Gabriel has been voted 'Branson's Best Male Vocalist" and tours with musicians such as Marie Osmond and Tony Orlando. His show impresses audiences with songs such as country, gospel, pop and rock. He also puts on a high energy show with his guitar, the 'Mufftar.' The family joins in the fun with his daughter performing sing-a-longs with the audience and his son entertaining with comedy skits. The show lasts about 2 hours and 10 minutes and is appropriate for the entire family.
Oct 07
N/A
Oct 08
N/A
Oct 09
N/A
Oct 14
N/A
Oct 15
N/A
Oct 16
N/A
Oct 21
N/A
Oct 22
N/A
>