Family Passes for Shows & Attractions in Branson
Taking the whole family to a Branson show can be expensive, but our family passes make it more affordable! You and your family can enjoy these great shows and attractions in Branson for just one low price, making it easier and more affordable to have a great vacation!
Special Offer: Buy 1 Get 1 Free
Click Here for More Information



The Bigfoot Discovery Expedition is a fun experience that will bring you closer to the legendary big foot then ever before, and everyone knows about this urban myth that is one of the most popular around.
Jul 21
11:30 AM
1:30 PM
3:30 PM
5:30 PM
Jul 22
11:30 AM
1:30 PM
3:30 PM
5:30 PM
Jul 23
11:30 AM
1:30 PM
3:30 PM
5:30 PM
Jul 24
11:30 AM
1:30 PM
3:30 PM
5:30 PM
Jul 25
11:30 AM
1:30 PM
3:30 PM
5:30 PM
Jul 26
11:30 AM
1:30 PM
3:30 PM
5:30 PM
Jul 27
11:30 AM
1:30 PM
3:30 PM
5:30 PM
>
The show is a group of troublemakers in the old west. 12 members of the audience are given a cowboy hat, six shooter, and a character. Their job is to figure out who committed the murder and bring them to justice.
The Branson Titanic - World's Largest Museum Attraction is a wonderful option for history lovers and families alike. This wonderful museum is filled with wonderful exhibits that you are sure to enjoy. Take your family here and have a great trip.
This fun-filled family oriented show is a great way to spend the day. The great music and comedy skits will have everyone filled with happiness. The gift shop is nearby so you can purchase all your souvenirs in one place.
The Baldknobbers Jamboree Show is Branson's oldest production and it features music and antics from a group of hillbillies that is hilarious and appropriate for every member of the family.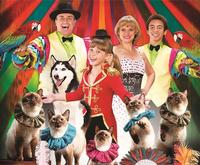 Ringleader Sean Paul and his cast of dogs, cats, and exotic birds will perform a variety of acts including dogs riding bikes and cats jumping through hoops for an entertaining, fun family time.
Available 87 days between Jul 21, 2018 & Dec 31, 2018
View Schedule
Hop on board Clay Cooper's Country Music Express to see one of Branson's most talented locals lead a troupe of amazing dancers, sing favorite country tunes and tell jokes that will have the whole family laughing in this memorable stage show.
Jerry Presley sings Elvis Presley songs in a tribute show in Branson Missouri, Jerry's vocal range and mannerisms are similar in style to Elvis's, but Jerry performs an awe stomping performance in his own right, and yes he is related to Elvis as his second cousin.
Available 63 days between Jul 21, 2018 & Dec 29, 2018
View Schedule